Start Your Vacation Now
Come Make Memories
Family vacation
Everyone benefits from a vacation away from regular routines! Detach from busy schedules, connect with your loved ones, and breathe deep the ocean air.
Couples getaway
Romance awaits you on Amelia Island. Soak up sunshine and quality time with one another as you take a break and focus solely on one another.
Special occasion
Celebrate birthdays, anniversaries, nuptials, life milestones and all of your momentous occasions with a stay on Amelia Island.
Destination Amelia Vacation Rentals
Destination Amelia is a hands-on property management company located in Fernandina Beach, FL. We take pride in our Amelia Island vacation rentals portfolio and helping our guests plan their dream trip. Our friendly team would love to help you find the perfect place for your visit. We are committed to providing outstanding, personal service to both our owners and guests. Amelia Island is a very special place to us and we are excited to help others create their own special memories on Amelia Island.
Escape to Amelia Island
Destination Amelia offers a variety of rental properties including condos, villas and single family homes, many of which are oceanfront. Whether you are looking to be on the south end of the island or more towards the mid/north end of the island, we have a property that is sure to meet your needs. Spend time enjoying Amelia Island's fabled beaches, waterways, restaurants, shopping and activities. We invite you to browse the properties here on our website or contact us directly to help you find the ideal Amelia Island vacation rental.
Things To Do
Guest Testimonials
This was our first time in Amelia Island, we loved this villa. It was very spacious with updated appliances and speactacular views of the golf course. Convenient to town and shopping, we thoroughly enjoyed our stay there and will definitely be back.
Read

More

Less
Cindy on 07/26/2021, 3303 Fairway Oaks
Wonderful, spacious & clean condo. View is fabulous, beds are comfortable, bathrooms beautiful. Great beach chairs in the condo & 4 nice beach towels. We will be back!!!
Read

More

Less
Melissa on 07/24/2021, 1661 Sea Dunes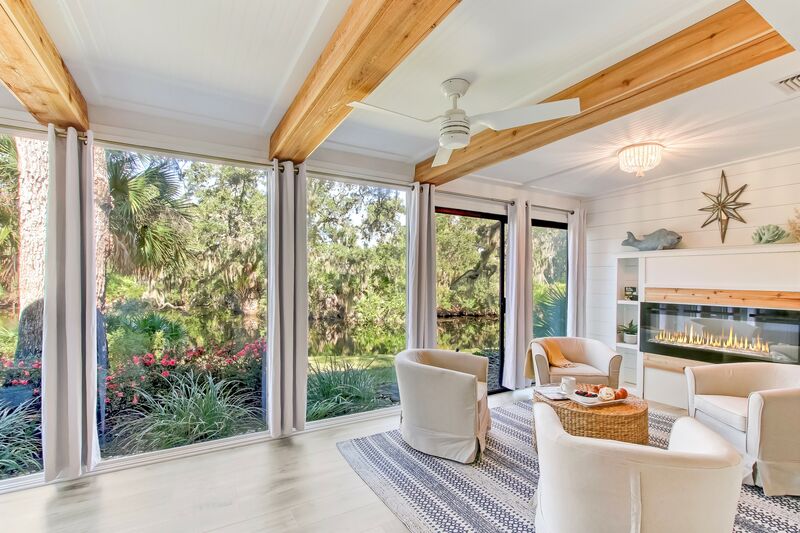 This is a great and fully renovated villa within the Omni property, and one that is as good if not better than the pictures. The furnishings are super comfortable, the linens very high quality, and the kitchen comfortably outfitted. The location is quite good with a short walk to beach (and far less crowded than in Omni hotel on same property). Our family rented bikes and explored the property and bike trails fully, and decided this was an ideal location. We felt well communicated with and cared for by Ryan and his Destination Amelia team, and look forward to returning in the future.
Read

More

Less
Monica on 07/18/2021, 1207 Lagoon Villas