Start Your Vacation Now
Come Make Memories
Family vacation
Everyone benefits from a vacation away from regular routines! Detach from busy schedules, connect with your loved ones, and breathe deep the ocean air.
Couples getaway
Romance awaits you on Amelia Island. Soak up sunshine and quality time with one another as you take a break and focus solely on one another.
Special occasion
Celebrate birthdays, anniversaries, nuptials, life milestones and all of your momentous occasions with a stay on Amelia Island.
Destination Amelia Vacation Rentals
Destination Amelia is a hands-on property management company located in Fernandina Beach, FL. We take pride in our Amelia Island vacation rentals portfolio and helping our guests plan their dream trip. Our friendly team would love to help you find the perfect place for your visit. We are committed to providing outstanding, personal service to both our owners and guests. Amelia Island is a very special place to us and we are excited to help others create their own special memories on Amelia Island.
Escape to Amelia Island
Destination Amelia offers a variety of rental properties including condos, villas and single family homes, many of which are oceanfront. Whether you are looking to be on the south end of the island or more towards the mid/north end of the island, we have a property that is sure to meet your needs. Spend time enjoying Amelia Island's fabled beaches, waterways, restaurants, shopping and activities. We invite you to browse the properties here on our website or contact us directly to help you find the ideal Amelia Island vacation rental.
Things To Do
Guest Testimonials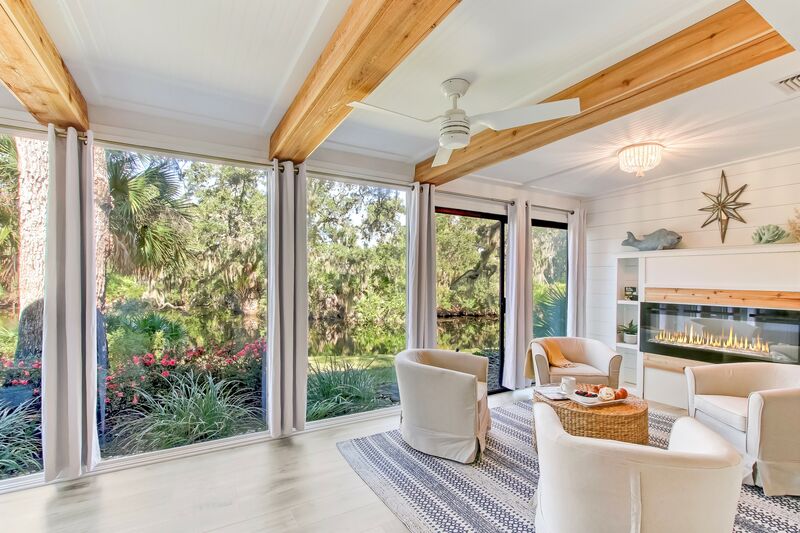 We really enjoyed our stay and it was one of the best decorated homes I have ever stayed at. The kitchen was well stocked and bedrooms were comfortable! Every furnishing was quality! Great property!
Read

More

Less
Natalie on 08/11/2021, 1207 Lagoon Villas
We loved this beautiful condo-it was so well-stocked with napkins, salt and pepper and soap—all the things we always forget at the store. I really appreciated this feature as I haven't had this in a rental before. The property is beautiful-we enjoyed the pathways for walks and biking. I wish the property map was easier to read-never really figured out the hotel's restaurants, mainly ate in the historic district and at Fernandina Beach. The Beach access was a little farther down the road than expected but the pool was so close. We stopped there to rinse the sand off our feet after the ocean and rinse chairs. If there was a place at the condo to rinse off, I didn't know about it. Overall, we loved it-great layout, location-we had a wonderful vacation!
Read

More

Less
Kelly on 08/12/2021, 2011 Beach Wood
Well appointed and very clean condo with great ocean view. Convenient to restaurants and historic downtown Fernandina. Check in and out so easy.
Read

More

Less
Sara on 08/06/2021, Amelia South L6