Start Your Vacation Now
Come Make Memories
Family vacation
Everyone benefits from a vacation away from regular routines! Detach from busy schedules, connect with your loved ones, and breathe deep the ocean air.
Couples getaway
Romance awaits you on Amelia Island. Soak up sunshine and quality time with one another as you take a break and focus solely on one another.
Special occasion
Celebrate birthdays, anniversaries, nuptials, life milestones and all of your momentous occasions with a stay on Amelia Island.
Destination Amelia Vacation Rentals
Destination Amelia is a hands-on property management company located in Fernandina Beach, FL. We take pride in our Amelia Island vacation rentals portfolio and helping our guests plan their dream trip. Our friendly team would love to help you find the perfect place for your visit. We are committed to providing outstanding, personal service to both our owners and guests. Amelia Island is a very special place to us and we are excited to help others create their own special memories on Amelia Island.
Escape to Amelia Island
Destination Amelia offers a variety of rental properties including condos, villas and single family homes, many of which are oceanfront. Whether you are looking to be on the south end of the island or more towards the mid/north end of the island, we have a property that is sure to meet your needs. Spend time enjoying Amelia Island's fabled beaches, waterways, restaurants, shopping and activities. We invite you to browse the properties here on our website or contact us directly to help you find the ideal Amelia Island vacation rental.
Things To Do
Guest Testimonials
We stayed at 1374 Shipwatch. It was the third time we stayed at Shipwatch and I think this was the nicest one so far. Everything was updated. Seemed clean. What I appreciated was they provided hand soap for all sinks, dishwasher detergent, laundry detergent, garbage bags. I think that's worth noting as our previous one did not provide most of that and we had to purchase on our own. They also had beach chairs which was a huge plus! Beds were very soft - too soft for us. View was great (except when we were there, the trucks and machines and barriers were up for the beach project.) Patio was nice. Good size. Each room had a TV. We could only get cable on 1 of them. The rest we had to use our Netflix, Prime, Disney accounts. We'd have preferred to have cable in all 3 TV's. Rental company did a great job making sure we were all setup, and were responsive to our questions and concerns. I'd use them again next time we come down to Amelia.
Read

More

Less
Kathleen on 10/25/2021, 1374 Shipwatch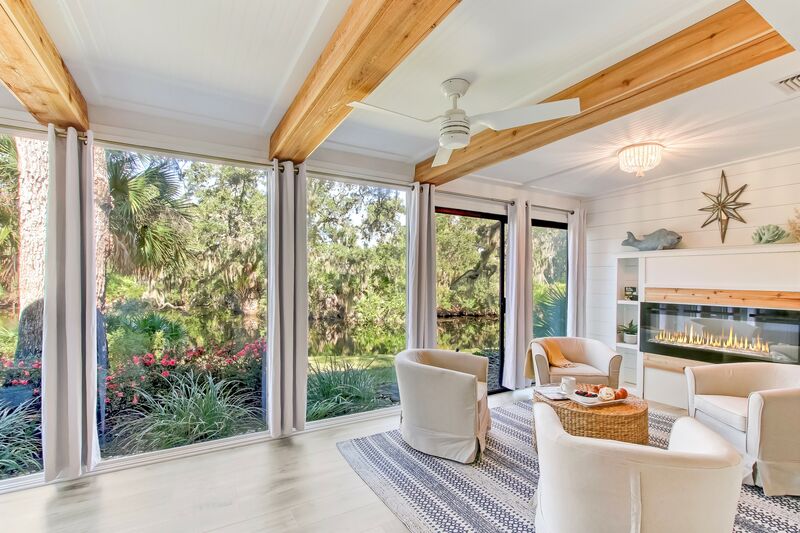 Stayed at this villa for a week just to getaway and relax and I was able to do just that. Property is tucked away in a beautiful setting surrounded by nature and a gorgeous lagoon in the back. Enjoyed drinking my morning coffee in front of the fireplace on some of the rainy mornings. Villa was equipped with everything and more than I needed to make my stay perfect. Beautifully decorated, quiet and peaceful. Looking forward to staying here again soon. Highly recommend!!
Read

More

Less
Jennifer on 08/12/2021, 1207 Lagoon Villas